Music Against Cancer is a non-profit organisation that was formed by volunteers in the spring of 2014. Our organisation is dedicated to collecting money to help children and young people affected by cancer.  In 2014 the funds were donated to the The Swedish Childhood Cancer Foundation west and for the care of all children and young people suffering with cancer at a large regional hospital. The founder of Music Against Cancer is Jan Sjölund, former co-owner of JSL Sound in Trollhattan.
"Cancer is something that unfortunately affects everybody in one way or another. Someone in the family falls ill, a friend, it´s sad to say, we all have someone we know is suffering from the disease. I felt I wanted to do something for all those who are affected directly or indirectly. And then I had the idea to put together a group that has a burning passion for this cause. Together we have now created a family day Event where artists perform and we auction off the signed musical instruments that we have collected. We believe this yearly event to be a good way to draw even more much needed attention to this awful disease."
On 16th November 2014 the association organised a big family day/event at the Folkets Hus in Trollhättan. Several artists performed on the main stage, a large music auction took place where lots of musical instruments which were signed by a variety of artists were auctioned off, there was also a big musical bring and buy sale/market where both professionals and private people bought and sold all sorts of musical products.
All of the money raised at this year's event will be donated to The Swedish Childrens Cancer Foundation West and to the care of all children and young people suffering from cancer at the NÄL Hospital.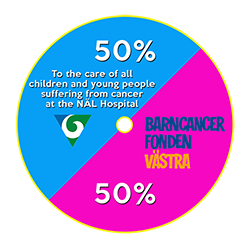 If you want to become a member of Music Against Cancer click on the following link "Become a member".
More information about Music Against Cancer, the program for the day and the auction can be found here on our website: www.musicagainstcancer.se